General
Wild garlic has enjoyed growing popularity as a tasty kitchen herb in recent years. Wild garlic is used as a fresh herb for spreads, in soups and sauces or in salads. However, collectors should know the characteristics of the plant well: Wild garlic has some poisonous "doppelgangers." Eating these "doppelgangers" can lead to severe symptoms of poisoning and even death. In addition, unwashed wild garlic can be contaminated with fox tapeworm eggs. These can also cause life-threatening secondary diseases.
Recognize wild garlic correctly
Wild garlic(Allium ursinum L.) is a perennial, herbaceous bulbous plant of the amaryllis family. The allium occurs wild in almost all of Europe and northern Asia at various altitudes and prefers moist locations in deciduous and riparian forests.
The leaves of the bear's leek sprout individually close together from the ground in March and April, depending on the altitude. They are clearly divided into a leaf surface and a thin, triangular petiole. The leaves are lime green, lanceolate, pointed at the end. Their upper side is shiny, the underside is dull, the veins are slightly prominent and run parallel. The leaves bend slightly when fresh and are very easy to rub. When rubbed, wild garlic leaves smell strongly of leeks. The leaves should be harvested before the plant blooms, because after that they take on a bitter taste.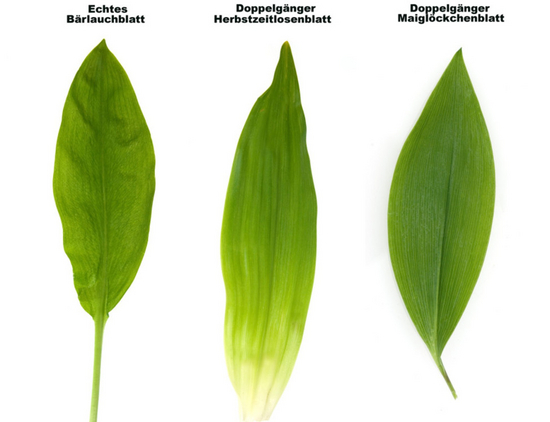 Again and again cases of poisoning occur, which in some cases can be fatal. When collecting wild garlic in native deciduous and mixed forests, it is often confused with meadow saffron, lily of the valley, spotted arum, many-flowered whiteroot (Solomon's seal) and feral tulips.
Recommendations for collecting and preparing wild garlic
Leaves should be harvested one leaf at a time. If you pull out whole areas in bunches, you run the risk of harvesting leaves that are not suitable for consumption.
When collecting wild garlic, one should know the plant well with all its characteristics in order to be able to distinguish it safely from its doppelgangers
Who is not sure, should rather leave the fingers of wild wild garlic and fall back on wild garlic from the vegetable shelf
Wash wild garlic leaves thoroughly under hot running water before eating or freezing, as they may be contaminated with fox tapeworm eggs. These can cause a life-threatening disease in humans with tumor-like growths, usually in the liver, that do not become apparent until many years after infection. The fox tapeworm eggs are not visible to the naked eye and survive common freezing temperatures of -18° Celsius. At temperatures around +60° Celsius, the eggs are killed.
But beware, when rubbing wild garlic leaves, the intense smell of leek sticks to the fingers and can be deceiving in further samples, so always consider other distinguishing characteristics of the plant.

What to do in case of poisoning
In case of poisoning, it is recommended to consult a physician and the Poisoning Information Center (VIZ) (01/406 43 43) at Gesundheit Österreich GmbH (GÖG) without delay.
The following information is important:
Information about the person (age, sex, weight).
What and what quantity was ingested?
When and where did the poisoning occur?
Supposed home remedies such as water or milk should never be administered without medical advice. Inducing vomiting can even be dangerous.
Poisonous doubles
When collected in native deciduous and mixed forests, wild garlic is frequently confused with meadow saffron, lily of the valley, spotted arum, many-flowered whiteroot (Solomon's seal) and feral tulips. In both food safety and seed testing, our experts are confronted every year with contamination of wild garlic with poisonous plants and deal with the identification and analysis of these poisonous plants.
Last updated: 10.10.2023
automatically translated